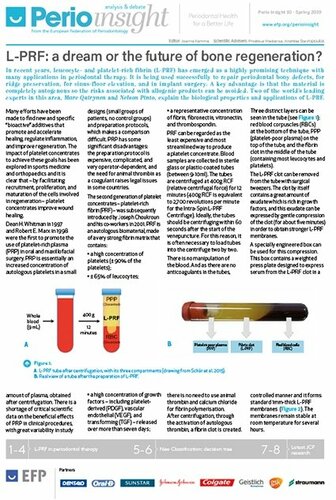 The latest edition of Perio Insight, the EFP magazine devoted to periodontal science and clinical practice, focuses on the use of leucocyte- and platelet-rich fibrin (L-PRF) in periodontal therapy.
The Perio Insight article, by Marc Quirynen (Catholic University of Leuven, Belgium) and Nelson Pinto (University of the Andes, Chile), explains the biological properties and applications of L-PRF.
The authors show how L-PRF is being used in a range of periodontal applications, including implant surgery, ridge preservation, sinus-floor elevation, and to treat periodontal bony defects.
They describe various advantages of using L-PRF, such as its autologous nature, ease of collection and chair-side preparation, its simple clinical application, and the lack of risks compared with those associated with allogenic or animal-derived products.
The Spring 2019 edition of Perio Insight also features an article about the "decision tree" for staging and grading periodontitis, developed by Maurizio Tonetti and Mariano Sanz for the EFP toolkit for clinicians on the new classification of periodontal and peri-implant diseases and conditions.
In addition, the magazine features two pages of summaries of research published in recent editions of the EFP's Journal of Clinical Periodontology. Topics covered include incorporating antibiotics into platelet-rich fibrin, the use of a chlorhexidine and Cetylpyridinium chloride mouthwash in managing peri-implant diseases, and new insights into the link between malocclusion and periodontal disease.