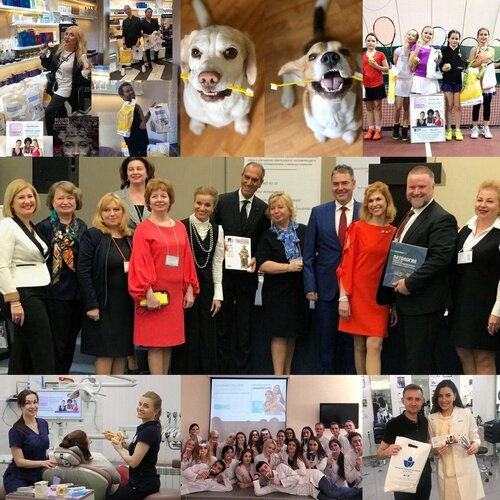 The Russian Society of Periodontology participated in Gum Health Day by staging a series of events across the country at locations including universities, research centres, clinics, and schools.
Members of the association visited one of the country's leading tennis academies in St Petersburg to explain the importance of gum health to future tennis stars. They also gave lessons in oral hygiene at training centres for beauticians – very much in keeping with Gum Health Day 2019's focus on aesthetics.
The society also held a session to teach oral hygiene to the employees of one of the biggest veterinary centres in St Petersburg, where two world-champion beagles (Mozart and Lev) helped bring smiles to people's faces.
A scientific and practical conference on current issues in periodontology was held in St Petersburg on May 15, featuring leading Russian periodontists and guest speaker Prof Mario Aimetti (University of Turin, Italy).
Commenting on this year's Gum Health Day slogan of "healthy gums, beautiful smile", the Russian Society of Periodontology said: "Despite the fact that handshakes, hugs, and bows have different meanings in different cultures, a smile is known throughout the world and in all cultures as a sign of happiness and approval. A beautiful smile is impossible without healthy and beautiful teeth and gums."