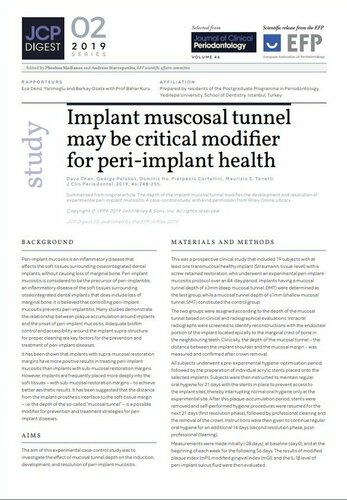 The latest issue of the EFP research summary JCP Digest covers the topic of whether the implant mucosal tunnel is a critical modifier for peri-implant health.
Adequate biofilm control and accessibility around the implant supra-structure for proper cleaning are key factors for the prevention and treatment of peri-implant diseases.
Implants with supra-mucosal restoration margins have been shown to have more positive results in treating peri-implant mucositis than implants with sub-mucosal restoration margins. But implants are often placed deep into the soft tissues – with sub-mucosal restoration margins – to achieve better aesthetic results.
This experimental case-control study – summarised as JCP Digest 02 (2019 series) – investigated the effect of the depth of the so-called "mucosal tunnel" on the induction, development, and resolution of peri-implant mucositis.
Researchers concluded that the depth of the mucosal tunnel is indeed an "important modifier" of the treatment outcome of experimental peri-implant mucositis. They said that the deep placement of implants – leading to deep mucosal tunnels – limits the effectiveness of self-performed oral hygiene and cleaning because accessibility deep below the soft-tissue margin is not possible.
The full research was published in the February edition (Volume 46, Number 2) of the Journal of Clinical Periodontology. It was summarised for JCP Digest by students of the EFP-accredited postgraduate programme in periodontology at Yeditepe University, in Istanbul, Turkey.