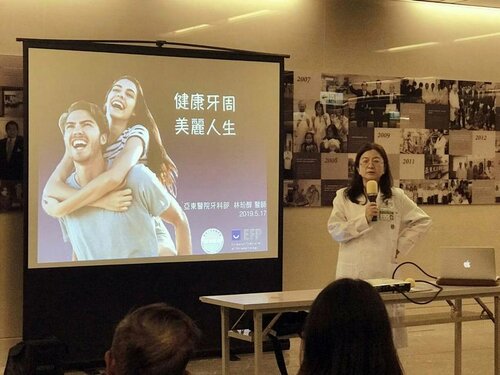 The Taiwan Academy of Periodontology, which joined the EFP in March as one of the new international associate members, actively participated in Gum Health Day 2019.
It organised public talks on periodontal health at 14 teaching hospitals, where periodontal training is accredited by the academy.
These talks took place at: Cathay General Hospital, Changhua Christian Hospital, Chen Kung University Hospital, Chiayi Chang Gung Memorial Hospital, E-DA Healthcare Group, Far Eastern Memorial Hospital, Kaohsiung Veterans General Hospital, National Taiwan Hospital-Hsinchu, Shuang Ho Hospital, Taipei Medical University Hospital, Taipei Tzuchi Hospital, Taipei Veterans General Hospital, Kaohsiung Medical University Hospital, and Cardinal Tien Hospital.
The society also issued press releases and held press conferences in Taipei and Kaohiung. In addition, one of the EFP-produced videos for Gum Health Day was translated into Chinese.