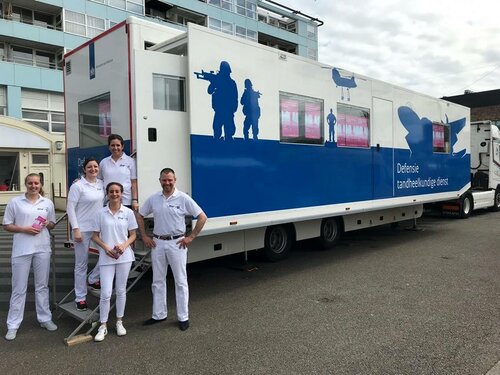 The Dutch Society of Periodontology (NVvP) organised its Gum Health Day events on May 16 (rather than May 12, which fell on a Sunday) and more than 80 periodontal, dental, and oral-hygiene practices participated by offering free consultations.
While some practices offered a free hour, others offered a whole day where patients could attend for a free periodontal screening. The NVvP provided the participating practices with posters and made special cards with the Dutch Periodontal Screen Index (DSPI) to provide to patients.
In Amsterdam, using a mobile dental practice provided by the Dutch army, the society provided free screenings to 53 patients.
The Dutch drugstore chain ETOS promoted European Gum Health Day by putting flyers and posters in all its shops, while Oral-B assisted by providing promotional material including toothbrushes and toothpaste.
In terms of media impact, there were articles about Gum Health Day in several Dutch newspapers, and there were interviews with dental professionals about periodontal health and disease. Various radio programmes also discussed or at least mentioned the awareness day.
In addition, the NVvP's own film crew was out and about in Amsterdam filming activities.