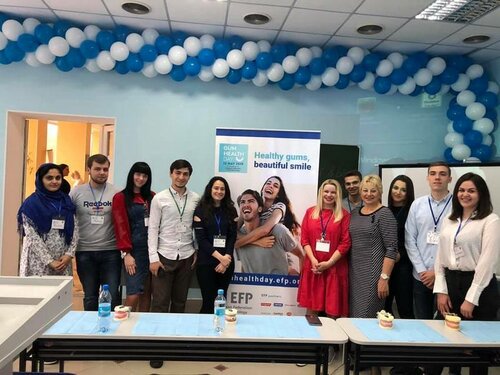 The Ukrainian Society of Periodontists staged a series of events from May 11 to 13 to celebrate Gum Health Day 2019, supported by the Ukrainian Dental Association, the Ukrainian Dental Hygienists Association, and the Academy of Dental Health.
There were lectures on the prevention of periodontal diseases and caries at nine university departments of therapeutic dentistry across the country, using material including translations of EFP material for Gum Health Day and from the Perio & Caries project.
Alongside the lectures, patients were given periodontal examinations, instructed in oral hygiene, and handed a leaflet about the role of a healthy oral cavity for the health of the whole body were distributed.
Students from universities in Kyiv, Kharkiv, and Odessa visited schools and orphanages, providing children with comprehensive examinations. Teachers and children were instructed in how to brush teeth correctly and given samples of toothpaste and toothbrushes (provided by companies Lacalut, Colgate, and GSK).
In Odessa, students and assistants of the Department of Dentistry at the International Humanitarian University went to a park where they handed out leaflets explaining the role of oral hygiene in maintaining the health of the whole body.
On Monday, May 13 the Department of Therapeutic Dentistry at P.L. Shupyk National Medical Academy of Postgraduate Education in Kyiv (headed by society president Galina Bilokytska) conducted consultations and patient examinations, motivating patients about the treatment of periodontal diseases, and providing training in oral hygiene.
An hour-long lecture by Prof Bilokytska – "Systemic and local methods for the prevention of periodontal disease" – was broadcast online. This lecture was based on the EFP material developed for Gum Health Day 2019 and the Perio & Caries project.
Members of the department also conducted a clinical analysis of the periodontitis patient, demonstrating the technique of an objective periodontal examination and explaining how to work with the "Florida Probe" diagnostic computer programme and the principle of the Cavitron (Dentsply Sirona) ultrasonic scaler.
As well as the dental faculties of medical universities, there was support for Gum Health Day from seven dental training centres and about 100 state and private dental clinics.
Professional skill contests were held (a hygienist competition) among dental students at several universities.