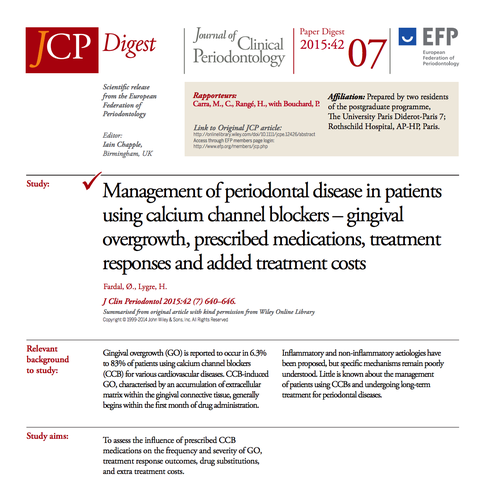 The problem of gingival overgrowth in heart-disease patients who use calcium channel blocking drugs is tackled in research published in JCP Digest 07 (2015:42).
Gingival overgrowth (GO) is a common problem in patients who use calcium channel blockers (CCB) for various cardiovascular diseases. Although inflammatory and non-inflammatory aetiologies have been suggested, the specific mechanisms remain poorly understood and little is known about the management of patients using CCBs who are also receiving long-term treatment for periodontal diseases.
In this context, Norwegian researchers Øystein Fardal and Henning Lygre set out to investigate the consequences of gingival overgrowth in patients using CCBs in a specialist practice setting, taking into account prescribed medications, treatment responses, and added treatment costs.
Their research, summarised in this edition of the JCP Digest, showed that more than 75% of patients with chronic periodontitis who were using CCBs needed treatment for GO. Surgical therapies were frequently required and retreatment was usually necessary. Replacing or terminating the CCBs significantly improved the GO, but the overgrowth did not completely resolve, suggesting an irreversible effect from these drugs.
Ending or replacing CCBs "resulted in significant decreases in GO" and surgical treatment was more effective than non-surgical treatment in reducing GO.
The research, published in full in the Journal of Clinical Periodontology (JCP) in July 2015, concluded that "in a specialist practice setting, the active and supportive therapy for patients using CCBs involves considerable additional treatment, and there is an increased risk of tooth loss and higher costs."
The rapporteurs who summarised the research, residents of the postgraduate programme of periodontology at the Paris Diderot University - Paris 7, added that "a very important finding was that withdrawal of CCB medication resulted in significant reductions in the GO. Medical side-effects such as GO are best managed medically by drug substitution rather than surgically, wherever feasible."