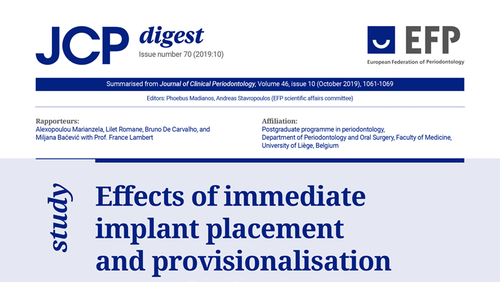 Although immediate implant placement has similar survival rates compared to conventional placement, its impact on facial mucosa is still the subject of debate.
Some studies have reported an increased risk of recession of the facial mucosa, while others have come to the opposite conclusion. In addition, some research has suggested that immediate provisionalisation not only has the advantage of providing the patient with an immediate fixed solution but might also preserve papilla height and the mid-facial mucosal levels, leading to improved aesthetic outcomes compared to delayed restorations.
Taking all this into consideration, a randomised, controlled trial carried out at the University of Michigan School of Dentistry (USA) compared the short-term aesthetic and functional outcomes of immediate implant placement versus delayed restoration.
The study, summarised as JCP Digest 70, found that successful aesthetic outcomes can be achieved with both approaches in the short-term. However, although immediate provisionalisation did not seem to increase the aesthetic outcome, it may be related to a higher risk of implant failure.
Researchers concluded that immediate implant placement can maintain soft-tissue levels and that a delayed restoration does not create more midfacial recession compared to immediate placement.
The study, published in the Journal of Clinical Periodontology in October, was summarised for JCP Digest by postgraduate students at the EFP-accredited programme at the University of Liège in Belgium.