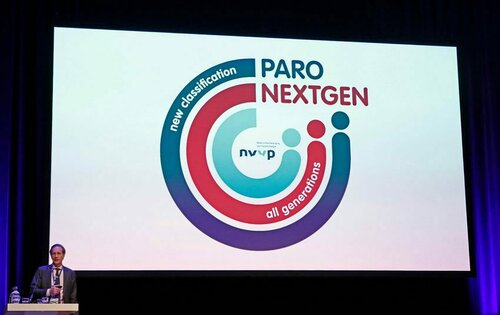 The Dutch Society of Periodontology (NVvP) recently held a congress in the town of Bussum where topics covered included the new classification of periodontal and peri-implant diseases, aesthetics, and treating periodontal disease in elderly people.
The "Perio Nextgen" congress, held on November 22, was a sell-out event with 750 attendees. The morning's proceedings were dominated by the new classification.
Bruno Loos started with an introduction about the aetiology of periodontitis. He discussed new insights into the development of periodontitis, including the concept of "insufficient immune fitness" – the presence of a disturbed host response to the dysbiotic biofilm. Prof. Loos explained the need for a new classification and how it should be applied to different patients.
Periodontist Alexander Verhelst used various clinical cases to illustrate how the new classification can be applied. During his lecture, audience members were able to participate interactively via a digital application to assess the staging and grading of individual clinical cases.
A lecture by Prof Hugo de Bruyn focused on the importance of aesthetics and the difficulties involved in choosing between different treatment options. Audience members could use the application to vote on various cases and were confronted with their own perceptions, preferences, and dogmas in relation to different treatment concepts in implantology and aesthetic dentistry.
Paediatric dentist Diem Gabon explored the dangers of erosive drinks and sweets, talking about the "seduction and deception" used by manufacturers and supermarkets.
Prof Marja Laine gave a lecture on the latest developments in periodontal disease in the elderly population, presenting several recent microbiological studies about this age group, which is growing in the Netherlands.
The one-day congress also featured an interlude where TV talent-show jury member Henkjan Smits talked about how to inspire colleagues and patients and create an "X factor".
"This was a hugely successful congress, which is evidence that periodontology lives among Dutch dental professionals," said NVvP president Ilara Zerbo.