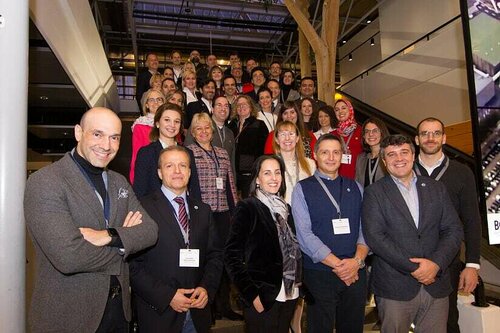 Preparations for EuroPerio10, which takes place in Copenhagen in June 2021, are now well under way.
The "Kick-Off" meeting of the EuroPerio10 Ambassadors programme took place on November 29 at the Bella Centre in Copenhagen, which will be the venue for the EuroPerio10 congress.
The ambassadors are 31 representatives of EFP-affiliated national societies of periodontology (all full-member and associate-member societies).
They were joined at the meeting by members of the EuroPerio10 organising committee – chair Phoebus Madianos, scientific chair David Herrera, treasurer Nicola West, Spyridon Vasilopoulos, Christian Damgaard, and Andreas Stavropoulos – who presented the project and outlined the programme.
Also present were members of the organising team from Mondial Congress & Events, the EFP's professional conference organiser.
"The ambassadors programme was first introduced for EuroPerio7 in Vienna (2012), and since then has played an important role during EuroPerio meetings," said Tali Chackartchi, the EuroPerio10 ambassadors co-ordinator. "The ambassadors were elected by their societies and they will be introducing EuroPerio 10 updates and encouraging professionals in their countries to attend the meeting".
During the meeting, various videos were made featuring the ambassadors. Promotional videos for EuroPerio10 were made with each ambassador speaking in their own language. Additional videos were made in which the ambassadors address the topic of bleeding gums, which will be the theme of Gum Health Day 2020.
Dr Chackartchi added that the EFP "is not only a federation of professionals, but also a community of friends sharing the same passion and desire to promote education and awareness in the field of periodontology. The ambassadors, will be delivering this enthusiasm within their countries, inviting people to participate in the largest and most important event of the EFP."
'Engagement and energy'
Phoebus Madianos commented: "The EFP and the EP10 organising committee immensely value their role in spreading the word across their countries promoting the EuroPerio10 congress. We count heavily on their engagement and energy to further increase the number of participants from their respective EFP-member countries."
The ambassadors act as liaison officers for EuroPerio10 and in the next few months they will be actively communicating their ambassador status within their own work environments and starting promotional activities within their national societies. These activities include:
Distributing promotional e-mails from the EuroPerio10 organising committee to members of their national societies and to other potential delegates.
Identifying major national meetings in periodontology and dentistry in their own countries and organising promotional activities at these events.
Providing the organising committee with relevant national contacts of periodontology clinics, periodontology departments at universities, etc.
Establishing and cultivating contacts with opinion leaders, institutions (dental chambers, for instance), related societies, and other bodies that might help promote EuroPerio10.
Sharing EuroPerio10 social-media posts.
Outside the organising committee and the EFP's professional conference organiser Mondial Congress and Events, it is probably the ambassadors who play the biggest role in encouraging people to attend the EuroPerio congresses.
List of ambassadors
Joining ambassadors co-ordinator Tali Chackartchi (Israel), the 31 EuroPerio10 ambassadors are: Kristina Bertl (Austrian Society of Periodontology), Rovshan Mammadov (Azerbaijani), Selena Toma (Belgian), Joon Seong (British), Ana Badovinac (Croatian), Michal Zitnansky (Czech), Julie Pajaniaye (Danish), Elmira Boloori (Dutch), Hemmo Kalsi (Finnish), Nicolas Picard (French), Bernadette Pretzl (German), Lali Kochiashvili (Georgian), Georgios Charalampakis (Hellenic), Boroko Csifo-Nagy (Hugarian), Richard Lee Kin (Irish), Isaac Tayab (Israeli), Luigi Minenna (Italian), Paulina Mikalauskiene (Lithuanian), Mouna Mamou (Moroccan), Anders Verket (Norwegian), Paweł Plakwicz (Polish), Joao Branco (Portuguese), Stefana Popa (Romanian), Ekaterina Loboda (Russian), Natasa Nikolic-Jakoba (Serbian), Eva Skaleric (Slovenian), Ana Molina (Spanish), Jesper Zakrisson (Swedish), Dorothee Schär (Swiss), Ali Çekici (Turkish), and Yulia Chumakova (Ukrainian).