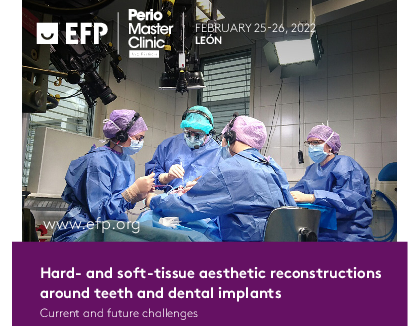 Uncertainty over the Covid pandemic and the possibility of changes in travel regulations have obliged the EFP to postpone International Perio Master Clinic 2022, which was due to be held in León, Mexico on February 25 and 26.
In letters to faculty and professionals who had registered for the event, congress chair Alejandro García and scientific chair Anton Sculean said that although regulations in Mexico still allow meetings to take place and international travel is possible, "we do not have sufficient clarity about what the situation will be like by the end of February."
They said that they did not want to "run the risk of faculty being put into quarantine when returning from Mexico or to put you at unreasonable risk."
As it was impossible to predict whether the situation would be stable enough for travel to take place at the end of February, and to avoid waiting until the last minute, the organisers decided to postpone International Perio Master Clinic 2022 until 2023. A new date for the meeting will be announced soon.
"We very much hope that the situation will be different next year, so that we will be able to provide the high-quality meeting that everyone expects," said Prof Sculean and Dr García.
They added that the organising committee, together with the Mexican Association of Periodontology, the EFP executive committee, and Mondial Congress & Events (the federation's professional conference organiser) had kept the status of International Perio Master Clinic 2022 under regular review, with the aim of ensuring that this meeting was "a memorable experience in terms of both high-quality scientific education and networking."
People who have registered for the event will be given a full refund within the next two weeks, while companies that had registered for the International Perio Master Clinic 2022 exhibition will be offered the possibility of maintaining their booking for the rescheduled event or a refund.
The programme for International Perio Master Clinic 2022 featured 25 expert clinicians from 14 countries presenting innovative clinical techniques that address current and future challenges in hard- and soft-tissue aesthetic reconstructions around teeth and dental implants.