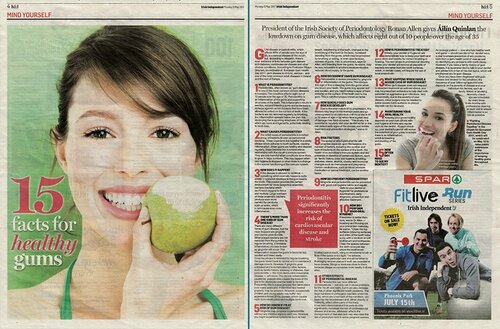 The Irish Society of Periodontology attracted considerable in European Gum Health Day through sending out a press release, which led to a substantial feature in the Irish Independent, Ireland's biggest daily newspaper.
The two-page feature, "15 facts for healthy gums," was published in the newspaper's health and living supplement. It included an interview with society president Ronan Allen, outlined risk factors for gum disease, and addressed the associations between periodontal and systemic diseases. It also offered advice to patients on self-diagnosis of gum disease and outlined steps for prevention and treatment of periodontal disease.
The society also provided a version of the press release to its members so that they could publicise the May 12 awareness day at the local level.
This year's European Gum Health Day coincided with the annual scientific conference of the Irish Dental Association. European Gum Health Day posters were displayed at the conference in conjunction with the Irish Dental Hygienists' Association.
Other events organised by the Irish Society of Periodontology included a student seminar on preventive methods, held at the division of restorative dentistry and periodontology at the Dublin Dental University Hospital, which also hosted a lunchtime lecture for staff and students given by renowned US periodontists Steven Offenbacher and Sebastian Ciancio.
Prof Offenbacher discussed the connections between oral and systemic diseases while Prof Ciancio outlined his "Pearls in dento-therapeutics".