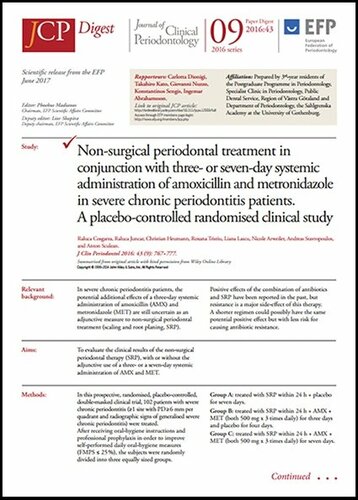 The positive effects of treating patients with severe chronic periodontitis with a combination of the antibiotics amoxicillin and metronidazole, as an adjunct to non-surgical periodontal treatment, have been reported in the past. But there are major concerns about the growing challenge from antibiotic resistance.
In this context, it has been argued that a three-day course of antibiotics, rather than the traditional seven-day course, might prove equally effective in terms of therapy but with a reduced risk of encouraging antibiotic resistance.
A placebo-controlled randomised clinical study – summarised as JCP Digest 09 (2016:43) – sought to evaluate the clinical results of non-surgical periodontal therapy, with and without the adjunctive use of a three- or a seven-day systemic administration of amoxicillin and metronidazole.
The study, which involved 102 patients with severe chronic periodontitis, found that both the three- and the seven-day antibiotic regimens resulted in statistically significantly higher clinical improvements compared to the placebo group. However, it did not provide sufficient evidence to justify the choice of one antibiotic regimen compared to the other.
The original research, published last year in the Journal of Clinical Periodontology, was carried out by researchers at universities in Germany, Romania, Sweden, and Switzerland. Their paper was précised for the JCP Digest by third-year residents of the postgraduate programme in periodontology at the specialist clinic in periodontology of the public dental service in the region of Västra Götland and the department of periodontology at the University of Gothenburg's Sahlgrenska Academy (Sweden).
JCP Digest 09 is available for viewing and downloading on the EFP website in English, French, German, Italian, Portuguese, and Spanish.