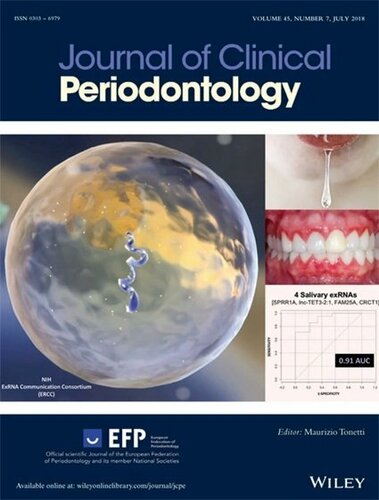 The Journal of Clinical Periodontology (JCP), the EFP's official scientific publication, has achieved its best-ever impact factor.
The journal's impact factor for 2017, which has recently been released, was 4.046, beating a previous high of 4.01 in 2014.
The factor represents the number of citations, received in that year, of articles published in that journal during the two preceding years, divided by the total number of articles published in that journal during the two preceding years. It is calculated by International Scientific Indexing, which indexes major international journals and proceedings.
During 2017, 284 articles published in the JCP during the previous two years were cited in other scientific publications a total of 1,149 times, giving an impact factor of 4.046. There were 363 citations in 2016, when the JCP published 129 articles, and 786 citations in 2015, when 155 articles were published in the journal.
The journal, published for the EFP by leading educational publisher John Wiley & Son, is in the top 10 of all dental journals, which means that it helps keep a high profile for periodontology.
"The JCP continues to be the leading perio journal worldwide in terms of impact factor and circulation," said editor Maurizio Tonetti. "It is the best channel for a researcher to bring high-calibre research to clinicians all over the world."
He said that less than a quarter of submitted manuscripts are published – "a hard benchmark to go through" – and emphasised the importance of the JCP's status as the EFP's official publication, which "adds tremendously to the journal, our authors, and our readers: the EFP commitment to excellence and impact is an integral value to the JCP."
Prof Tonetti described the "colossal enterprise" of bringing the monthly publication to the profession. "It starts with a worldwide network of the best researchers who aspire to publish their best work in the Journal," he explained. "It is based on our editorial team, with leaders in the different branches of periodontology and implant dentistry, and on the referees who work hard with authors to further refine excellent articles.
"And then there is the production team: editorial assistants in Oxford, editorial management in Copenhagen, production in Manila, copy editing in India – a round-the-clock operation supported by a leading publisher."