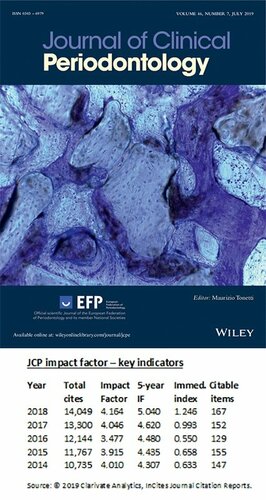 The Journal of Clinical Periodontology (JCP), the EFP's official scientific publication, has achieved its best-ever impact factor.
The journal's impact factor for 2018, which has just been released, was 4.164, beating the previous high achieved last year of 4.046.
In addition, the JCP was ranked fourth out of 90 journals in the field of dentistry, oral surgery, and medicine.
The impact factor represents the number of citations, received during the year in question, of articles published in the journal over the two preceding years, divided by the total number of "citable items" published in that journal over the two preceding years (see table).
The immediacy index shows the number of citations in a particular year divided by the number of citable items. The JCP's immediacy index for 2018 was 1.246 – much higher than the figure for previous years. This indicates that 2018 was a strong year and this will be likely to have a positive effect on the impact factors for 2019 and 2020.
The impact factor and ranking are calculated by International Scientific Indexing, which indexes major international journals and proceedings.
"I am happy to see that, thanks to the success of the JCP, periodontology continues to be at the top among dental specialties in terms of reach and scientific impact," said the journal's editor, Maurizio Tonetti. "It is an important ingredient to ensure that the discipline continues to lead the future of dentistry and meet the challenges of the high burden of periodontal diseases.
"Thanks are due to our authors who bring exciting and novel research, to the reviewers who ensure rigorous and helpful peer review, to the editorial team for their wisdom and engagement, and to the EFP and national societies for their support."