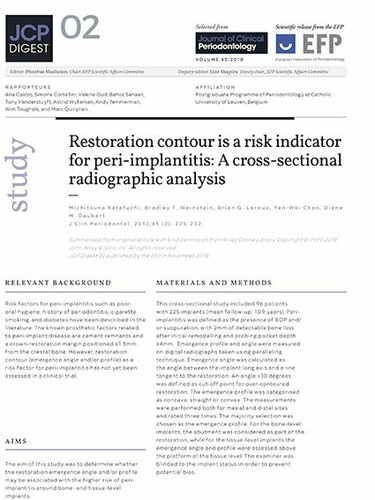 An emergence angle greater than 30 degrees is a significant risk indicator for peri-implantitis, according to research summarised in the latest edition of the EFP magazine JCP Digest.
A cross-sectional radiographic analysis performed by researchers at the University of Washington in Seattle (USA) also found that a convex profile in implant restoration creates an additional risk for bone-level implants, but not for tissue-level implants.
This research, summarised as JCP Digest 02 (2018:45), analysed 96 patients with 225 implants – with an average follow-up of more than 10 years – and implants were divided into bone‐level and tissue‐level groups.
Researchers said that the correlation between interproximal contours and peri-implantitis found in this study "is novel and valuable information for clinicians."
However, they added that larger-scale long-term study assessing the prevalence of peri-implantitis in platform-switching implants and its relation to restoration contours was needed.
The research was summarised for the JCP Digest by students of the EFP-accredited postgraduate programme in periodontology at the Catholic University of Leuven (Belgium).