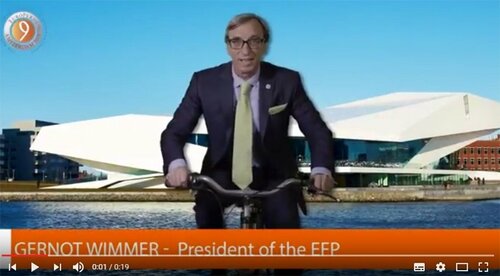 Videos featuring EFP president Gernot Wimmer, members of the EuroPerio9 organising committee, and presidents and committee members of EFP-affiliated national societies of periodontology, have been released on YouTube as part of the EuroPerio9 promotional campaign.
The series of videos feature the participants on bicycles in front of backdrops featuring scenes from Amsterdam, the host city of the June 2018 congress, using the slogan "Let's get moving for EuroPerio9".
Videos already available include messages from Gernot Wimmer, Michèle Reners (chair of the EuroPerio9 organising committee), and Søren Jepsen (scientific chair, EuroPerio9).
There are videos featuring the presidents presidents (or other committee members) of the EFP-affiliated national perio societies of Austria, France, Finland, Germany, Israel, Lithuania, Portugal, Romania, Russia, Spain, Ukraine, and the United Kingdom.
More videos featuring other societies will be added in the coming weeks. There is also a video which offers a compilation of the messages from various national-society representatives and the EuroPerio9 organisers.
The videos have been designed to be used by the EFP and the national societies to promote EuroPerio9, and are ideal for sharing via social media.
EuroPerio9 takes place at RAI Amsterdam from June 20 to June 23, 2018.