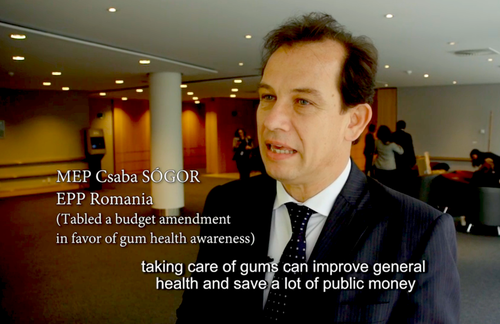 The EFP-produced video Gum Health Matters, which features positive comments about perio from members of the European Parliament (MEPs), is now available for viewing on the EFP website.
This professional-quality video shows the growing political support for periodontology and for raising public awareness on gum health within European institutions. It was produced following the pioneering visit of an EFP delegation to the European Parliament in June 2015.
This visit, which involved a series of meetings and a working lunch, was designed as a way to start building a strategic relationship with policymakers, European Commission officers, experts, and other actors in the EU decision-making process.
The video features MEPs from several countries talking about the importance of periodontal health and its role in helping to prevent and treat systemic conditions such as diabetes and cardiovascular disease.
One of the featured MEPs, the Romanian Csaba Sógor, explains why he tabled an amendment to the EU budget to fund a pilot project for an awareness campaign on gum health. There are also comments from fellow MEPs Andrey Kovatchev (Bulgaria) and Josep-Maria Terricabras (Spain).
Gum Health Matters is part of a broader EFP initiative to work with European and international institutions to improve their understanding of gum health, its role in general health and public health, and the potential of periodontology to improve citizens' health and also save billions of euros of expenditure in public-health systems.
The video was given its first screening, to an audience of members of EFP committees, at last November's Media and Health Promotion Workshop in Madrid. It is also available for viewing at the EFP's YouTube channel.