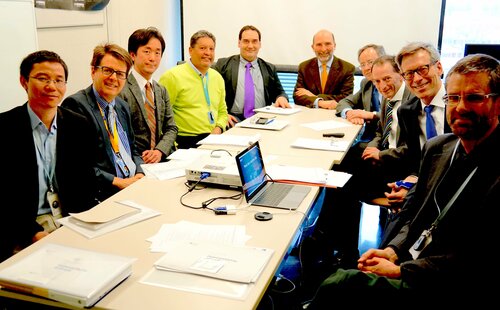 An EFP delegation visited the Geneva headquarters of the World Health Organisation (WHO) on February 29 for a series of high-level meetings about possible collaboration on matters relating to gum health as well as general and public health.
Topics discussed during the main meeting and a subsequent working lunch included an exploration of common ground and the identification of possible areas for joint action.
The exchange of scientific knowledge, action protocols and best practices, co-operation in certain health-related issues, and the complementarity between the EFP and the WHO were discussed as possible areas of collaboration.
The fight against tobacco and alcohol abuse, and mutual reinforcement of efforts in the prevention, early detection, and control or treatment of gum disease and certain chronic, non-communicable diseases were highlighted as priorities for both organisations.
The WHO team at the main meeting comprised: Dr Hiroshi Ogawa, oral health officer; Dr Douglas Bettcher, director of the department of prevention of non-communicable diseases; Dr Édouard Tursan d'Espaignet, co-ordinator of Comprehensive Information Systems for Tobacco Control; Dr Dongbo Fu, technical officer of the Tobacco Free Initiative; and Dag Rekve, technical officer for the Management of Substance Abuse.
The EFP delegation was led by president Søren Jepsen and also included Iain Chapple, chairman of the scientific affairs committee, Mariano Sanz, chairman of the European Workshop in Periodontology, and Maurizio Tonetti, editor of the Journal of Clinical Periodontology.
Later that day, the EFP delegation had a catch-up meeting with Dr Glenn Laverack, a technical officer at the WHO and a leading expert in public health and empowerment, who gave a keynote lecture at last November's EFP Media and Health Promotion Workshop in Madrid.
Following this day of meetings, the EFP has started an exchange of information with the WHO in order to pave the way for agreeing a shared agenda and possible future joint initiatives.
"In my opinion, this all-important meeting with the WHO lays the foundation for a very promising and fruitful co-operation in the future," said EFP president Søren Jepsen.
The meeting with the WHO is part of a wider EFP public-affairs initiative aimed at building a partnerships and strategic relationships with key global health authorities in order to advance a new gum-health agenda. It follows the successful meeting with MEPs in Brussels in June 2015.
In the image, from left to right: Donbgo Fu, Douglas Bettcher, Hiroshi Ogawa, Édouard Tursan d'Espaignet, Santi Quiñones, Maurizio Tonetti, Mariano Sanz, Iain Chapple, Søren Jepsen, and Dag Rekve.