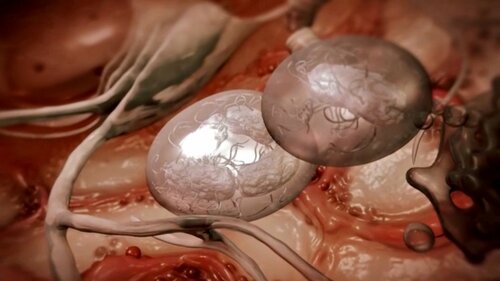 The full version of the scientific film Oral Health and Systemic Health: The interlink between Periodontitis and Diabetes is now available for viewing, free of charge, on the EFP website.
This 3D animated film, supported by Sunstar and produced by the Quintessence International Publishing Group, illustrates how periodontitis and other inflammatory processes of the oral cavity may contribute to systemic conditions such as atherosclerosis or diabetes, or negatively influence their course.
Having had its world premiere at the EuroPerio8 conference last year in London, the animation film was publicly released in DVD format at the end of January, and the EFP is delighted that the producers have also made it available for viewing on the website.
Oral Health and Systemic Health addresses its subject by using spectacular 3D animations to visualize some of the key aspects of the molecular and cellular links between periodontal infection/inflammation and systemic diseases/conditions such as atherosclerosis and type 2 diabetes.
The following events are described:
Dissemination of periodontal bacteria into the circulation, thereby eliciting systemic inflammation that may lead to:
Promotion of atherosclerosis;
Impaired glycemic control, with negative effects on the periodontium; and
Potential benefits of periodontal treatment.
This is the fourth film in the 'Cell-to-Cell Communication' series, which Quintessence Publishing launched in 2011 with the aim of making the invisible processes inside of the human body visible. Thus, the backgrounds of the clinical phenomena of each single topic are shown on a microscopic scale and are visualized using HD video animation technology.
"The series seeks to facilitate the understanding of biological processes and to motivate specialists, dental practitioners, and dental students to use this knowledge for their day-to-day practical activities," said Änne Klebba, digital project manager at Quintessence Publishing.
There are two versions of the film: an "expert" version (the one available on the EFP website), which is intended for the specialist and for dental education, and a "public" version aimed at patients and the general public, which uses the same video material but with a simplified voice-over which avoids difficult technical terminology.
"The 'public' version is extremely important since it aims to educate not only patients but also their relatives in order to create a common effort towards prevention", said Marzia Massignani, scientific affairs manager at Sunstar.
EFP president Søren Jepsen said: "The EFP is very grateful to Quintessence Publishing and Sunstar for this very generous offer, as it will serve as an important backbone of our 'Periodontal Health for a Better Life' awareness campaign. Oral Health and General Health: The Links between Periodontitis, Atherosclerosis, and Diabetes is a great example of modern science transfer, where the most updated science is presented with the great realism and liveliness that current 3D video technology can offer, as we explained in our recent guest editorial in the Journal of Clinical Periodontology."
Mariano Sanz, chairman of the European Workshop in Periodontology, emphasized: "This combination makes scientific understanding and learning a most enjoyable experience, with clear advantages in how to apply research findings to clinical practice."
Sanz added that the scientific component of the film was derived from the 9th European Workshop in Periodontology, a "landmark consensus workshop held jointly with experts from Europe and United States" and that it was put together by renowned experts in the field. As a result, it was a "trustworthy account of current understanding and provides an evidence-based report on the important links between periodontitis and the two major chronic diseases affecting mankind: diabetes and cardiovascular diseases."
Specialist input was provided by an international team of experts including the authors Prof Søren Jepsen (Germany), Prof Mariano Sanz (Spain), Dr Bernd Stadlinger (Switzerland) and Prof Hendrik Terheyden (Germany), as well as an advisory board whose members were Prof Iain Chapple (UK), Prof Robert Genco (USA), Prof Evanthia Lalla (USA), and Prof Shinya Murakami (Japan).
This scientific project is supported by the Sunstar Foundation and Sunstar, which is an EFP partner, and produced by the Quintessence International Publishing Group. Project manager Dr Alexander Ammann and coordinator Änne Klebba of Quintessence Publishing have played a key role in its successful completion, along with 3D specialists Dr Marko Reschke, Thomas Kramer, and Matthias Gauer of the interActive Systems Berlin animation company (a subsidiary of Quintessence). Additionally, Fumihiro Awashima and Dr Marzia Massignani (Sunstar), have contributed.
The trailer for Oral Health and General Health: The Links between Periodontitis, Atherosclerosis, and Diabetes is also available for viewing on the EFP website.