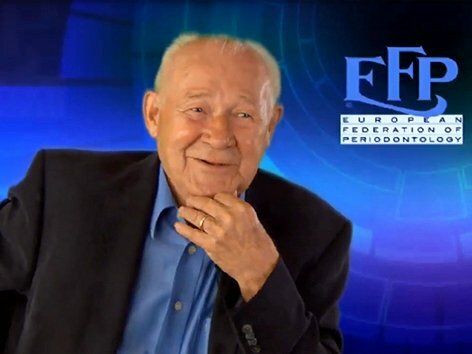 A video interview with one of the pioneers of tissue regeneration is the latest instalment in the 'EFP Interviews' series which focuses on the work of the "parents" of European periodontology.
The interview with Prof Thorkild Karring, of Aarhus University in Denmark, records the steps that led to the breakthrough in regenerative studies that eventually evolved into the universally used technique of guided tissue replacement (GTR).
The interview is in three parts, with the first video (Starting Out) covering Karring's early life and the build-up to these important discoveries, showing how he came to recognise the critical role in regeneration played by the periodontal ligament and tissue specificity.
In the second video (The Story of Guided Tissue Regeneration), Prof Karring talks about how he developed regeneration techniques at the University of Gothenburg in Sweden, working with another "perio great", Jan Lindhe. "That was a very good thing for me actually, because that was where we developed the method of guided tissue regeneration," says Karring.
In the final video (Back Home in Aarhus), he talks about his role in running the dental school in Aarhus and his role in the education of future periodontists and scientists.
"Thorkild Karring has a great story to tell and I think everyone interested in his work should hear it," says Tiernan O'Brien, who conducted the interview and created the Perio Greats/EFP Interviews project in order to "record directly from the principals involved the behind-the.scenes view of their work and to expose a little of the human side of these giants of European periodontology."
The interview with Karring follows earlier interviews with Klaus Lang, Jan Lindhe, and Ubele van der Velden. All the 'Perio Great' interviews are available within the EFP Interviews section of the website, which can be viewed only by members of EFP-affiliated national periodontology societies.
These interviews with the pioneers and parents of periodontology in Europe trace how they shaped and developed this branch of dentistry. They provide lively accounts of experiences, of lessons learnt, and of challenges overcome – all told directly by the protagonists themselves.
"Published scientific papers provide the data and the results of seminal studies in the evolution and development of periodontology in Europe – but they don't tell the whole story," said Dr O'Brien, a member of the EFP's external affairs committee who will become the committee chairman at the federation's general assembly in April. "These video interviews are to provide future generations of periodontists with a sense of the context in which these studies came about and the motivation behind them."