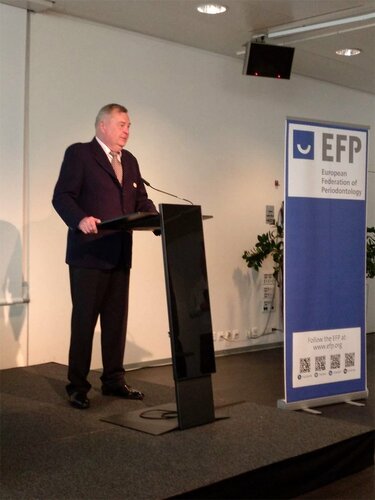 The EFP has awarded its Distinguished Service Award to Michel Brecx (Belgium) in recognition of his work for the federation over many years.
The award is presented annually to a member of an EFP-affiliated national society of periodontology who is selected for distinguished service to the federation in more than one area over a period of at least 15 years.
Prof Brecx was presented with the award by Anton Sculean, EFP president 2018-19, at the EFP's general assembly in Bern, Switzerland, on March 30,
In proposing Michel Brecx for the award, the Belgian Society of Periodontology highlighted his extensive career with both the national society and the EFP, which included:
Co-founder and board member of the Belgian Society of Periodontology in 1981 and supported the creation of the European Co-ordination Committee (the precursor of the EFP).
First treasurer of the EFP, for eight years from 1992.
EFP president (2002-03) and during his presidency the EFP was officially recognised as a non-profit organization and the EFP name and logo were registered at the European level.
Chairman of the EFP's nomination committee.
EFP delegate for the Belgian Society of Periodontology on two occasions (from 1991 to 2002 and from 2008 to 2013).
Editorial board member of the EFP's Journal of Clinical Periodontology from 1981 to 2003.
"He played an important role in our scientific community and significantly contributed to the scientific knowledge in periodontology with over 150 publications," noted the nomination from the Belgian Society of Periodontology. "Furthermore, his extensive teaching contribution in pre- and post-doctoral programmes in Europe, America and Africa is evidence of his passion and dedication to periodontology."
As full or guest professor, Prof Brecx has taught at the universities of Leuven, Bern, Brussels, Tübingen, Regensburg, Hamburg, Mainz, Dresden, Nijmegen, Manitoba, Connecticut, and Kinshasa.
"Michel Brecx was the first EFP Treasurer from 1992, when he established banking in Luxemburg and managed life without the euro, which meant so many different currencies to negotiate for membership fees and other EFP transactions – hard to believe today," said Iain Chapple, EFP secretary general 2016-19.
"Michel is a very humorous and passionate guy, a real EFP stalwart and someone we owe a lot to as one of the founders of this great federation."