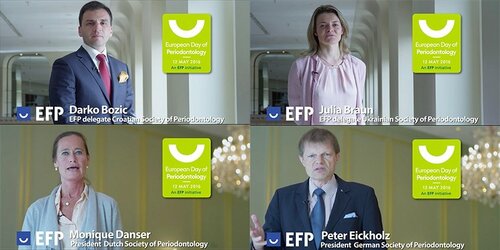 The huge success of European Day of Periodontology on May 12, with activities in 20 different countries, involved a wide range of activities organised by the EFP and its affiliated national societies.
To help spread the message about this international event – which promotes awareness of the dangers of periodontal disease and its links with systemic diseases such as diabetes and cardiovascular disease – the EFP produced a series of short videos featuring national-society presidents and EFP delegates.
Several of these promotional videos, which were filmed at the EFP's general assembly in Berlin in April, present the various activities which each national society organised for this periodontology awareness day.
In the video of the Croatian Society of Periodontology, EFP delegate Darko Bozic talks about how the society organised coverage in print and broadcast media, about its "open day" in which people were offered free periodontal check-ups, and about the setting up of a big tent in the main square in Zagreb to distribute leaflets about periodontal health and its importance to general health.
Dutch Society of Periodontology's president Monique Danser talks about how she used the society's recent congress to spread the message about May 12 to the country's periodontists and dentists and also sought to gain coverage in the Netherlands' most popular daily newspaper.
Across the border in German, DG Paro sent posters about the European Day to its 5,000 members so that they could put them up in their practices and thereby provoke conversations with their patients about periodontal diseases. Peter Eickholz, the society's president, explains.
Meanwhile, in Greece, the Hellenic Society of Periodontology, published articles in the dental press and provided all its members with information about the awareness day through emails, social media and its website. As president Petros Damoulis explains, the society is also linking the European Day to the 12th Symposium of Periodontology, which it is holding from May 20 to 22.
In Ireland, the emphasis was on a series of media activities, as Ronan Allen, president of the Irish Society of Periodontology, narrates.
The European Day of Periodontology coincided with the 50th annual congress of SEPA, the Spanish society of periodontology, which took advantage of the day to launch the Alliance for Periodontal and General Health, a health-promotion initiative in which it is working with the national societies for cardiovascular disease and diabetes, together with professional, scientific, and public institutions. David Herrera, SEPA president, talks about the plans.
The Ukrainian Society of Periodontology organised events in schools and kindergartens to explain the importance of healthy gums, as described by Julia Braun, the society's EFP delegate.
The EFP also produced shorter video clips in which national-society presidents voice their support for the European Day of Periodontology in their local languages and uttering the event's slogan "Healthy gums for a better life."

These videos feature the presidents of the Croatian, Danish, Dutch, German, Hellenic, Hungarian, Irish, Israeli, Polish, Portuguese, Spanish, and Ukrainian societies of periodontology.