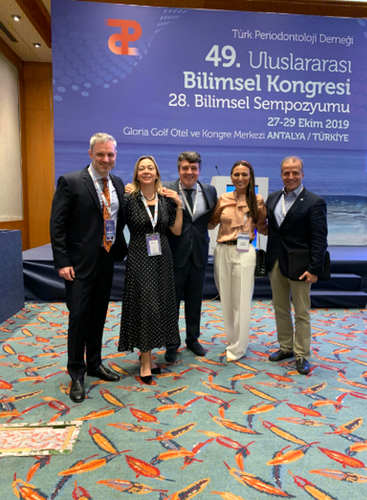 The Turkish Society of Periodontology (TSP) held its 49th international scientific congress and its 28th scientific symposium in Antalya from October 27 to 29, attended by around 300 periodontists, postgraduate students, and dental students.
The event featured scientific lectures, short presentations, a poster exhibition, industry-sponsored lectures, hands-on courses, and a symposium dedicated to the new classification of periodontal and peri-implant diseases and conditions.
Pedro Ferreira Trancoso (Portugal) lectured on the gingival manifestations of non-periodontal disease, Mervi Gürsoy (Finland) addressed periodontal disease in relation to adverse pregnancy outcomes, and David Herrera (Spain) spoke about antimicrobial therapy for acute and chronic periodontal conditions.
Bahar Kuru (Turkey) gave a lecture on the oral microbiota and the use of probiotics in periodontology, Nikos Mardas (UK) offered a clinician's perspective on recession coverage in periodontal plastic surgery, and Andreas Stavropoulos (Sweden) outlined a "pragmatic approach" to the management of peri-implantitis.
New classification
The topic of the symposium on the last day of the congress was "Evaluation of the new classification of periodontal diseases in terms of clinical application and research".
Turkish speakers Funda Yalcın, Nermin Yamalık, and Leyla Kuru discussed in detail the classification's concepts relating to health, gingivitis, periodontitis, and mucogingival problems and answered a wide range of questions from the audience.
There were also hands-on courses open to all participants, with topics including implant placement, as well as the awarding of the TSP-Colgate Research Prizes.
The organising committee and the meeting were chaired by Basak Dogan and the scientific committee comprised Ali Cekici (chair), Hare Gursoy, Burcu Karaduman, and Ulku Baser.
TSP president Seyhan Gucum said that the meeting had been "an excellent event to share up-to-date knowledge, to meet, and learn from the distinguished experts in their fields, and to discuss with colleagues and friends. I am grateful to all speakers and the whole organising committee, who contributed to the great success of the meeting."