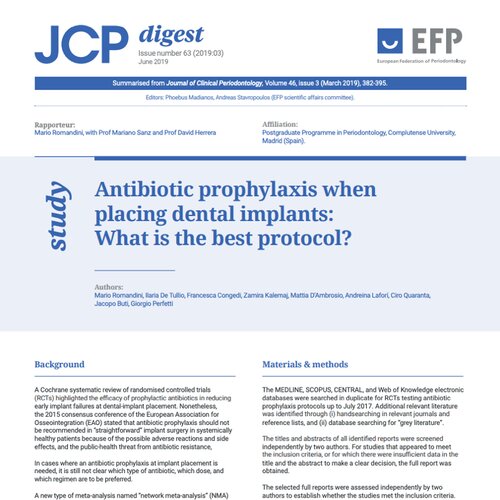 The latest edition of JCP Digest, the EFP's research summary, covers an important issue for clinicians – the use of antibiotic prophylaxis when placing dental implants.
JCP Digest No. 63 provides a precis of a systematic review of randomised controlled trials that sought to assess what is the best antibiotic-prophylaxis protocol to prevent early implant failure.
The research, which involved a network meta-analysis, found that all the proposed protocols tended to reduce early implant failure. However, it also found that the most commonly adopted protocol – a single pre-operative dose of 2g of amoxicillin – did not seem to be indicated by the available literature.
The team of Italian researchers (based mainly at the University of Chieti-Pescara in Chieti, Italy) said that the use of post-operative antibiotics did not appear to be justified. In addition, while antibiotic prophylaxis protected against early implant failure, this was not sufficient reason to indicate its routine use in all clinical situations, because of the risk of adverse reactions and bacterial resistance.
The research was published in full in the March 2019 edition of the Journal of Clinical Periodontology. It was summarised for JCP Digest by a postgraduate student at the Complutense University of Madrid.
New look
The latest issue of JCP Digest has a new design, which has been created to present the content in a clearer and more attractive way.
With this latest issue, a new numbering system has been adopted for JCP Digest, to indicate not only each of the 12 issues of each annual series but also to indicate the overall sequence of issues. The latest issue, number three of the 2019 series, is the 63rd edition of JCP Digest, which the EFP launched in 2014.
The role of this research summary, which is published 12 times a year, is to provide the latest research to busy clinicians in a compact and easy-to-read format. Each issue is a summary of a paper published in the Journal of Clinical Periodontology, the federation's prestigious monthly journal, which has an impact factor of 4.046.
Recent issues of JCP Digest have covered such topics as the implant mucosal tunnel, techniques for recession coverage, and lateral sinus-floor elevation.
Each issue is summarised by postgraduate students at one of the 16 universities in Europe and the Middle East where the EFP-accredited programme is taught, supervised by their teachers. After its initial publication in English, JCP Digest is subsequently translated and published in Croatian, French, German, Hebrew, Italian, Portuguese, and Spanish.
JCP Digest is edited by Phoebus Madianos (chair, EFP scientific affairs committee) and Andreas Stavropoulos (elected member of the EFP executive committee and member of the scientific affairs committee).