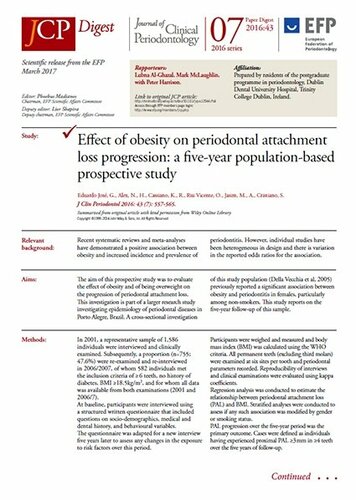 A five-year study has shown that obesity appears to be a risk factor for periodontal attachment loss (PAL) progression for females but not for males. However, being overweight but not obese does not appear to be associated with PAL progression.
These are among the findings of a five-year population-based study, carried out in Brazil, which is reported in the latest edition of JCP Digest, the EFP's research summary.
JCP Digest 07 (2016: 43) reports on a prospective study, carried out by researchers at the Federal University of Rio Grande do Sul, Porto Alegre, Brazil, which sought to evaluate the effect of obesity and of being overweight on the progression of periodontal attachment loss.
This research – "Effect of obesity on periodontal attachment loss progression: a five-year population-based prospective study" – is part of a larger study investigating the epidemiology of periodontal diseases in Porto Alegre.
The researchers said that dental professionals should be aware of a possible association between obesity and the progression of periodontal disease in female patients. As a result, "counselling of obese female patients may be indicated to highlight the potential association of obesity with progressive disease as part of the control of modifiable risk factors."
The original research, published last year in the Journal of Clinical Periodontology, was précised for the JCP Digest by residents of the postgraduate programme in periodontology, Dublin Dental University Hospital, Trinity College Dublin, Ireland.
JCP Digest 07 is available for viewing and downloading on the EFP website in English, French, German, Hebrew, Italian, Portuguese, and Spanish.