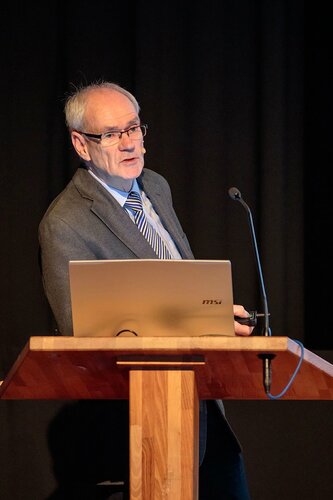 More than 200 participants took part in the "On the Edge" congress, held by the Dutch Society of Periodontology (NVvP) in the small town of Ede on March 31, devoted to presenting Perio Workshop 2016's conclusions on the boundaries between caries and periodontal disease.
Perio Workshop 2016 was organised by the EFP in conjunction with the European Organisation for Caries Research (ORCA), sponsored by Colgate, and held in November last year in La Granja de San Ildefonso, near Segovia (Spain).
"On the Edge" followed the model of the workshop by involving both cariologists and periodontists. It was moderated by Jo Frenkcen (assistant professor in cariology) and Cor Van Loveren (professor in cariology) who respectively opened and closed the congress.
The core of the event comprised four lectures, each related to the conclusions of one of Perio Workshop 2016's four working groups.

The first lecture was given by Phil Marsh, professor of oral microbiology at the School of Dentistry, University of Leeds (UK), on "The role of microbial biofilms in the maintenance of oral health and in the development of dental caries and periodontal diseases."
This was followed by a lecture on "Innate and acquired risk factors for caries and periodontitis. What is common and what is different?" given by Dr Luigi Nibali, senior clinical lecturer at the Institute of Dentistry, Queen Mary University of London (UK), and Prof Nadine Schlüter, head of the Division for Cardiology at the University of Freiburg (Germany).
The third lecture covered "Prevention and control of periodontal diseases and dental caries at individual and population level" and was given by Elena Figuero, associate professor in periodontology at the Faculty of Dentistry, Complutense University of Madrid (Spain), and Vita Mačiulskienė, professor and head of the Clinic of Dental and Oral Pathology, Hospital of Lithuanian University of Health Sciences Kauno klinikos in Kaunas (Lithuania) and president of ORCA.

The fourth lecture, "Caries and periodontitis: health, disease, prevention, and care in older patients, a challenge for the future," was given by Peter Bottenberg, senior lecturer, Department of Restorative Dentistry, Free University of Brussels (Belgium).
The NVvP has used this formula of presenting results of workshops as a congress before. According to Ilara Zerbo, member of the NVvP board: "It is a successful way to present the conclusions of the experts from the field and the highest level of evidence in a practical way."
The society has also published, on its Facebook page, a short film of 'On the Edge'.
The consensus findings of Perio Workshop 2016 have been published in an open-access supplement of the EFP's scientific publication the Journal of Clinical Periodontology.
Attendees at the conference were encouraged to sign the EFP Manifesto: Perio and General Health and were informed about European Gum Health Day.