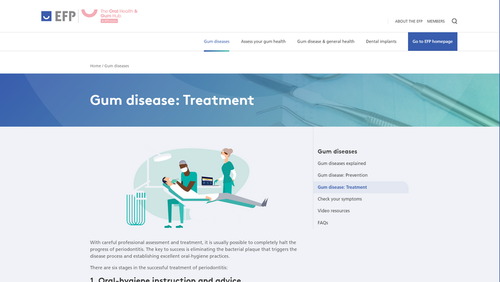 THE NEW EFP website features an updated and expanded section where patients can find all they need to know about gum health, gum disease, dental implants, disease prevention, and treatment.
The Oral Health & Gum Hub has been designed for easy navigation with sections on gum diseases, dental implants, the relationship between gum disease and general health, and an easy-to-use tool for self-assessing gum health.
As well as clear information based on the latest scientific evidence, the new patients' section includes videos that explain oral-hygiene techniques and various forms of treatment.
"The patients' area is probably the most important part of the EFP website as it is the most visited," said Darko Božić, the EFP's webmaster. "We have added the best 3D animation videos that are currently out there to help explain to patients the basic concepts in periodontal therapy and we have even added a short questionnaire so that visitors can assess their own gum health."
He added that the material on peri-implant diseases, their prevention, and their treatment was particularly important as "we feel that this is a real global problem that we will have to encounter head-on."
As well as the gum-health self-assessment tool, the patient's area includes a survey on gum health, both of which have been made possible by an unrestricted grant from EFP partner GSK.
The section on gum disease and general health includes the EFP campaigns Perio & Diabetes, Oral Health & Pregnancy, and Perio & Caries, as well as material produced for the annual Gum Health Day. A new campaign, on the relationship between periodontal and cardiovascular diseases, is due to be added later in the year.
"I really believe that EFP should be the primary choice for patients to get the information about periodontal disease and the treatment options for the numerous procedures we provide to our patients," concluded Dr Božić.
"So it is our duty to stay as the most relevant organization when it comes to patient information about periodontal and peri-implant diseases. I have no doubt that with this new Oral Health & Gum Hub we will be able to solidify this goal."