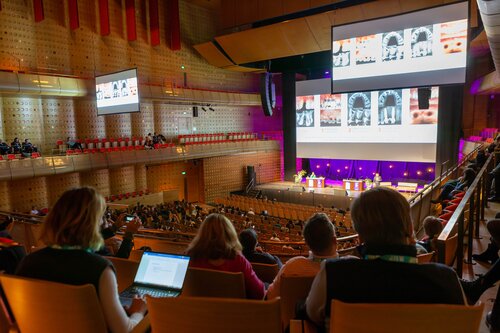 « We are delighted with the success of our fifth edition of Perio Master Clinic (PMC) in Antwerp, Belgium this weekend. The top rate presentations and enthusiastic participation of delegates who attended from 62 countries to learn more about the synergy between orthodontics and periodontology, made this a unique experience," says Peter Garmyn, Conference Chair.
More than 800 delegates filled the Flanders Meeting & Convention Center Antwerp on 3 and 4 March 2023. They came to Belgium from as far as Argentina, Japan and Azerbaijan to take part in two pre meeting courses and eight sessions that featured 39 outstanding speakers from all over the world. The top five countries represented were Belgium, France, Romania, the UK and the Netherlands.
Participants particularly appreciated the new format, with dual presentations and clinical cases that lead to many questions during each session. Originals abstracts were also well received. Virginie Monnet-Corti, Scientific Chair, said: "The "Perio-Ortho Synergy" programme focused on a multidisciplinary approach, combining periodontal and orthodontic treatment. Hands-on workshops on the day before the conference were also a big success with over 30 participants who practiced innovative periodontal techniques under the guidance of experts."
Networking events were also popular. The "Lunch & learn" get-togethers, the congress reception and evening were well attended and gave participants an opportunity to meet, discuss the day's learnings and build valuable professional connections. To get the "feel" of the meeting, a wrap up video of Perio Master 2023 in Antwerp is available online.
"We hope attendees will take home new ideas, knowledge and competences in periodontology, implant and orthodontic dentistry, that will help them better treat their patients. Our heartfelt thanks go to our faculty, participants, sponsors, Mondial and EFP staff, and to everyone who contributed to make this meeting a success," concluded Garmyn.
The next International Perio Master Clinic will take place on 5 and 6 May 2023 in León, Mexico. The upcoming conference will be relevant to every practitioner eager to update their skills in hard- and soft-tissue aesthetic reconstructions around teeth and implants.
Register now for the International Perio Master Clinic in Mexico.
See you there!