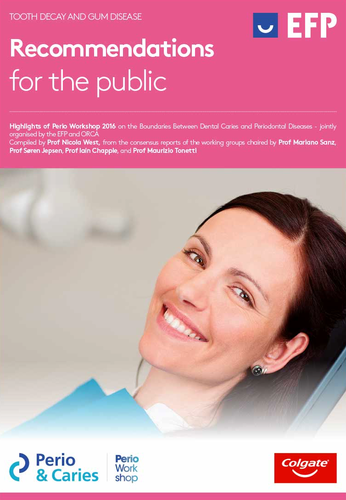 The Perio & Caries initiative developed by the EFP includes a recommendation brochure intended for the general public, which translates into easily understandable yet accurate terms how to prevent and fight both gum disease and dental caries, the most widespread human conditions. They are at the same time the two most frequent reasons why people lose their teeth.
Readers of this brochure are given clear recommendations such as restricting sugary foods and sweet drinks to mealtimes only, using a fluoride toothpaste twice a day, acquiring the habit of cleaning in between their teeth once daily, and asking their dentist for professional fluoride application if they are at high risk of caries.
Current and potential patients are reminded that both gum disease and tooth decay are preventable but still affect a growing number of people globally. That is why the document encourages everybody to visit regularly a oral-health professional not only for treatment, but for preventive care as well. Bleeding gums are not normal.
This publication is part of a brochure series compiled by Nicola West from the consensus reports produced by the four working groups in Perio Workshop 2016. Other brochures contain recommendations specifically addressed to the oral healthcare team, non-dental health professionals, researchers, and policymakers.
Prof West is also the author of the scientific report "The boundaries between caries and gum disease," which builds on the outcomes of Perio Workshop 2016, jointly organised by the EFP and ORCA (European Organisation for Caries Research) in La Granja, Spain. Perio Workshop 2016 was co-chaired by Mariano Sanz and Andreas Schulte.
The Perio & Caries initiative has been funded via an unrestricted grant from Colgate, which was also the sponsor of Perio Workshop 2016.