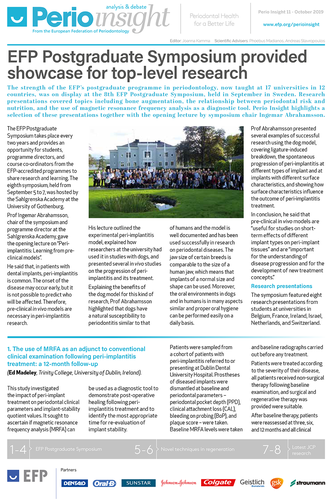 The latest edition of the EFP magazine Perio Insight highlights research presentations given at the EFP Postgraduate Symposium, held in Sweden in September.
The topics covered are:
magnetic resonance frequency analysis as a diagnostic tool;
leucocyte- and platelet-rich fibrin block for bone augmentation;
the relationship between periodontal risk and nutrition;
autogenous particulate dentin in socket-site preservation procedures;
the influence of periodontal status on peri-implant tissues;
the release of vascular endothelial growth factor to enhance angiogenesis.
"All the cases were at the highest level of performance and exceptionally presented," said Moshe Goldstein, chair of the EFP postgraduate-education committee. "The quality and diversity of the research presentations proved that the EFP-accredited programmes are at the forefront of periodontal research."
Perio Insight 11 also features articles by Darko Božić and Lior Shapira, previewing the presentations they are due to give at Perio Master Clinic 2020 in the session on novel concepts in regeneration.
Dr Božić, a member of the EFP communications committee and president of the Croatian Society of Periodontology, addresses combined periodontal and bone regeneration, focusing on growth factors. He states that "our knowledge about cell response to growth factors has significantly grown, which helps us in our decision-making."
Prof Shapira, a member of the EFP executive committee who will be the federation's president in 2021-22, discusses guided bone regeneration in the digital era, looking at the use of 3D printing and CAD-CAM technologies. He explains how "the digital approach is more accurate, shortens the surgical procedure, and has fewer adverse effects."
The issue also includes summaries of the consensus reports from Perio Workshop 2018 on bone regeneration.
"With Perio Insight, the EFP spreads cutting-edge research, innovations, and developments in the field of periodontology presented in an easy-to-read though highly scientific way," said Joanna Kamma, editor of Perio Insight. "In every issue, we try to bring you an interesting expert opinion, debate, or the outcomes of workshops and congresses and maintain the high quality of the publication."