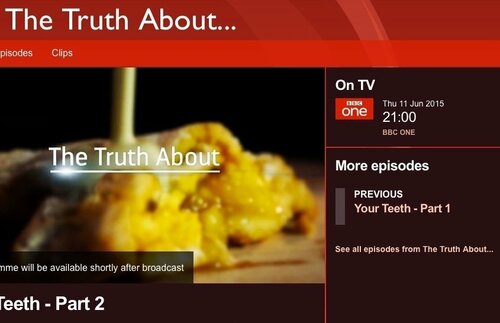 A new two-part BBC series investigating poor dental hygiene has brought a huge boost to efforts to raise public awareness of periodontal disease.
Any information campaign on any subject would benefit from exposure on the world's oldest and best known global broadcasting service, so the June 4 and June 11 airings of The Truth About Your Teeth at the peak time of 21:00 on BBC One represented a mighty advance in oral health awareness. Peak time programmes can reach millions of people in the UK, but BBC programmes often find their way to a massive international audience through worldwide deals or by streaming or downloads.
These two highly informative but always viewer-friendly programmes were full of advice and information on oral health, and they explored the stories of several people with dental problems, one of them a singer silenced due to the poor look of her mouth.
Part Two of the programme showed how presenter Chris van Tulleken allows himself to develop periodontal disease by not cleaning his teeth for a period of weeks. He is then advised and treated during this process by Prof. Iain Chapple of the University of Birmingham School of Dentistry.
Chapple, who is the current president of the British Society of Periodontology, was recently elected to take over in April 2016 as General Secretary of the European Federation of Periodontology. He features prominently in Part Two of The Truth About Your Teeth and is able to explain to viewers how the inflammatory process in periodontitis can exaggerate the response of the immune system and lead to worsening of the inflammation.
The broadcasting of this BBC series around the time of EuroPerio8 in London (June 3 to 6) made June quite monumental in terms of the projection of periodontology worldwide, with the UK very much at the centre of things.
Recent reports in The Daily Mail about the BBC TV oral health series The Truth About Your Teeth alleged that "cheaper" toothbrushes were as effective as power brushes. This statement runs contrary to systematically reviewed evidence from the latest EFP Perio Workshop, whose researchers found rechargeable electric toothbrushes were more effective at removing plaque than manual brushes.