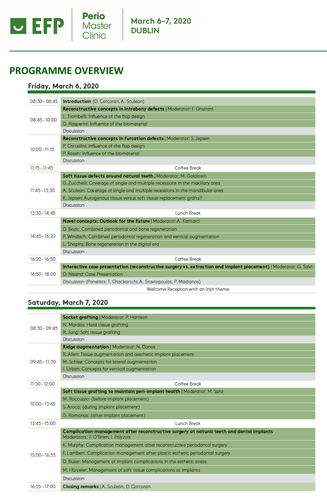 Clinicians wishing to participate in the main EFP event of next year – Perio Master Clinic 2020 in Dublin ­­­– will be able to book their places from next Monday, August 12.
Focused on current and future challenges of hard- and soft-tissue aesthetic reconstructions around teeth and dental implants, Perio Master Clinic 2020 will bring together many of the world's leading clinicians who will explain the latest clinical techniques in one of the most challenging areas of periodontal practice.
Taking place on March 6 and 7 at the Royal Dublin Society, the event involves nine sessions over two days covering all the important aspects of reconstruction around teeth and implants.
"Perio Master Clinic 2020 provides a unique opportunity over two days to witness the best speakers on regeneration in periodontics – all experts in their own field," said congress chair Declan Corcoran. "Over two days. delegates can expect to get a complete overview of the field of regeneration and uniquely witness high-quality videos that will highlight the practicalities of the procedures."
The programme, co-ordinated by scientific chair Anton Sculean (EFP president, 2018-19), features:
Reconstructive concepts in intrabony defects (Filippo Graziani, Leonardo Trombelli, Giulio Rasperini);
Reconstructive concepts in furcation defects (Søren Jepsen, Pierpaolo Cortellini, Paul Rosen);
Soft-tissue defects around natural teeth (Moshe Goldstein, Giovanni Zucchelli, Anton Sculean, Karen Jepsen):
Novel concepts: outlook for the future (Alpdoğan Kantarci, Darko Božić, Peter Windisch, Lior Shapira):
Interactive case presentation – reconstructive surgery versus extraction and implant placement (Giovanni Salvi, David Nisand, Tali Chackartchi, Andreas Stavropoulos, Phoebus Madianos);
Socket grafting (Peter Harrison, Nikolaos Mardas, Ronald Jung);
Ridge augmentation (Nikos Donos, Ronan Allen, Markus Schlee, Istvan Urban);
Soft-tissue grafting to maintain peri-implant health (Mariano Sanz, Mario Roccuzzo, Sofia Aroca, Georgios Romanos);
Complication management after reconstructive surgery at natural teeth and dental implants (Tiernan O'Brien, Ioannis Polyzois, Kevin Murphy, France Lambert, Daniel Buser, Markus Hürzeler).
The two-day event is preceded by a day of hands-on workshops in which participants will receive expert instruction on case selection, instrumentation, flap design, autogenous grafting techniques, the use of biomaterials, the use of barrier membranes, and suturing techniques.
Early booking advised
As numbers are strictly limited to ensure the optimal learning environment, the EFP and its professional conference organiser Mondial Congress and Events strongly recommend early booking once registration opens at 08.00 CET on August 12.
The "early bird" individual registration fee for bookings before 30 November is €540 for EFP members and €650 for non-members. From 1 December, the prices rise to €650 and €760 respectively.
There are also group discounts, available to bookings of 10 or more people before 30 November, where per-person prices will be €495 for EFP members and €595 for non-members.
As well as the clinical sessions, Perio Master Clinic 2020 also features an exhibition and there has been a strong show of interest from industry in taking exhibition space.