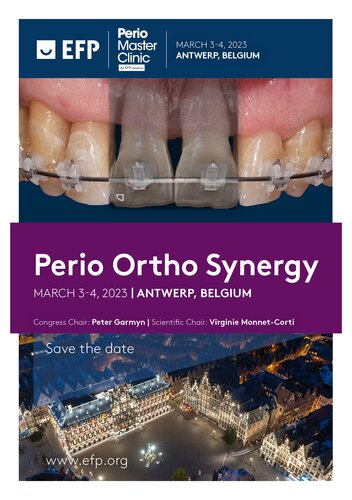 Registrations can now be made for Perio Master Clinic 2023 in Antwerp and International Perio Master Clinic 2023 in León, Mexico.
The former will focus on "perio-ortho synergy" while the latter will explore challenges in hard- and soft-tissue aesthetic reconstructions around teeth and implants.
Space at both events is limited to ensure the optimal learning experience and early booking is recommended.
Perio Master Clinic 2023 will be held in Antwerp, Belgium on March 3-4 and will focus on a multidisciplinary approach to combined periodontal and orthodontic treatment.
The scientific programme features leading clinicians from Europe, the USA, and Latin America. The eight sessions over the two days will cover:
Orthodontic treatment in stage IV periodontitis.
Periodontal regeneration and orthodontics.
How to deal with dental agenesis.
The ortho-perio synergy to enhance smile aesthetics.
Digital tools to prevent periodontal complications in orthodontic treatment.
Mucogingival surgery in orthodontically treated patients.
Accelerated orthodontics.
Management of complex perio/ortho/implant cases: how far can we go?
The day before the conference's regular sessions begin, there will be hands-on workshops, following the successful example of Perio Master Clinic 2020 in Dublin where these workshops were added to the programme.
"The philosophy of the Perio Master Clinic is to improve the skills and vision of clinicians with the latest and most effective clinical techniques based on sound scientific principles in periodontology, implant dentistry, and orthodontic dentistry," said Peter Garmyn, chair of Perio Master Clinic 2023.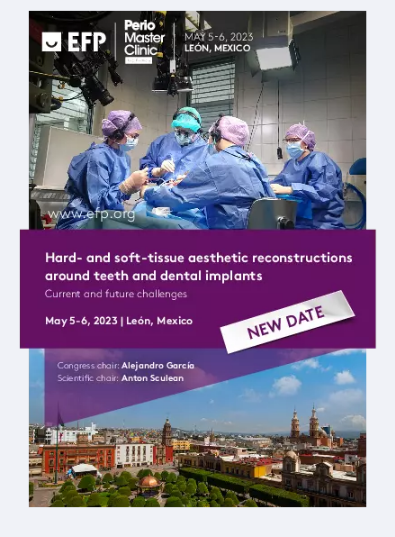 International Perio Master Clinic 2023 will take place in León, Mexico, on May 5-6, having been postponed from February 2022 because of uncertainties in travel regulations related to Covid-19.
This second international version of Perio Master Clinic, following the one held in Hong Kong in 2019, will provide clinicians with the opportunity to update their knowledge and skills in hard- and soft-tissue reconstructions around teeth and implants. The eight sessions will cover:
Reconstructive concepts in intrabony defects.
Reconstructive concepts in furcation defects.
Soft-tissue defects around natural teeth.
Novel concepts: outlook for the future.
Interactive case presentation: regenerative surgery versus extraction and implant placement.
Ridge augmentation.
Soft-tissue grafting to maintain peri-implant health.
Complication management after reconstructive periodontal surgery.
"The single-track programme will allow participants to witness all aspects of regeneration and aesthetic plastic surgery under one roof, with a significant emphasis on clinical cases that will be illustrated by high-quality video presentations followed by challenging discussions on the presented topics," said conference chair Alejandro García.