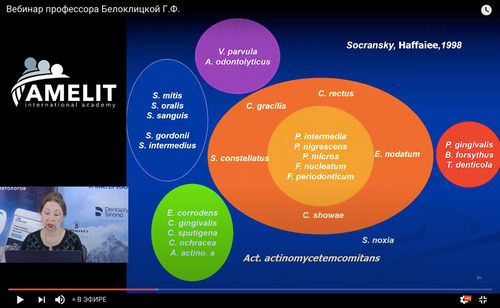 Over the last six months, the Ukrainian Society of Periodontists has organised a large number of webinars on key topics in periodontology, implantology, and related areas of dentistry, to provide continuing education during the Covid-19 pandemic.
Topics covered have included prevention and diagnosis of periodontal diseases, complex treatments, modern methods of splinting teeth in generalised periodontitis, and an integrated approach to treating periodontal patients with rheumatoid arthritis.
The society's president Galyna Biloklytska gave a webinar in April on "protocols for the examination and treatment of patients with periodontal disease in conditions of coronavirus infection: possible risks at work for a dentist." She returned to this topic with a lecture on YouTube on 12 May to mark Gum Health Day 2020.
Also related to the pandemic was a webinar given by Yulia Chumakova on features or oral hygiene during the quarantine period in relation to the prevention of periodontal diseases in children and adults.
On October 1, the Ukrainian Society of Periodontists launched the "Endo-Perio-Resto" programme of webinars, which will take place every two weeks until the end of the year, focusing on interdisciplinary issues related to endodontics, periodontology, and restoration.
On October 13 and 14, the society will hold in online format its international conference "Achievements and prospects of clinical periodontology: science – practice", which it had postponed from April.
This is one of a series of articles about how EFP-affiliated national societies of periodontology have responded to the challenges posed by the Covid-19 pandemic.