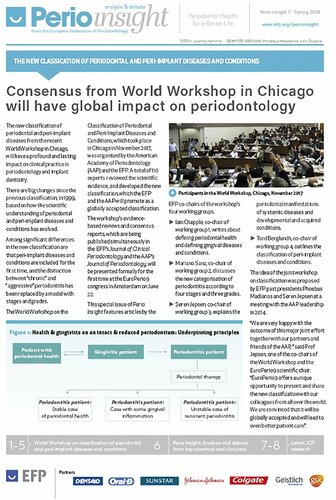 The latest issue of Perio Insight, the EFP's quarterly science magazine, is devoted to the new classification of periodontal and peri-implant diseases and conditions.
It features articles by the EFP co-chairs of the four working groups of the World Workshop on the Classification of Periodontal and Peri-Implant Diseases and Conditions, whose consensus reports will be presented formally for the first time at EuroPerio9 on June 22.
The World Workshop, organised by the American Academy of Periodontology (AAP) and the EFP, took place in Chicago in November 2017, featuring 110 experts who reviewed the scientific evidence and developed the new classification.
Iain Chapple, co-chair of working group 1, writes about defining periodontal health and defining gingival diseases and conditions.
Mariano Sanz, co-chair of working group 2, discusses the new categorisation of periodontitis according to four stages and three grades, in place of the concepts of "chronic" and "aggressive" periodontitis.
Søren Jepsen, co-chair of working group 3, explains the periodontal manifestations of systemic diseases and developmental and acquired conditions.
Tord Berglundh, co-chair of working group 4, outlines the classification of peri-implant diseases and conditions.
Perio Insight also includes summaries of recent research published in the Journal of Clinical Periodontology, the EFP's official scientific publication, which is edited by Maurizio Tonetti. The journal, published monthly, has an impact factor of 3.477.
Perio Insight is edited by Joanna Kamma for the EFP communications committee. Phoebus Madianos and Lior Shapira, respectively chair and deputy chair of the federation's scientific affairs committee, act as scientific advisors.
All EuroPerio9 participants will receive a free printed copy of this edition of Perio Insight inside their congress bags.