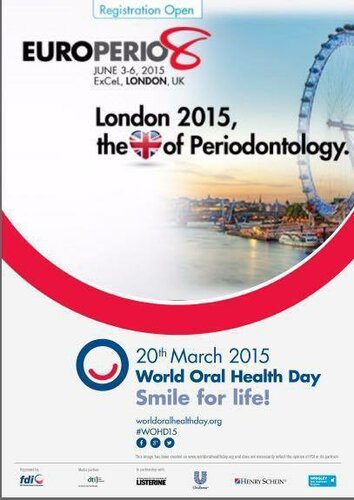 World Oral Health Day was held on March 20 as the international day to celebrate the benefits of a healthy mouth and to promote worldwide awareness of oral-health and the importance of oral hygiene.
The European Federation of Periodontology (EFP) supported the celebration of this annual event, and chose the occasion to underline the importance of preventing periodontal diseases to the maintenance of good oral health.
Next month, the EFP will publish a free supplement to its widely respected Journal of Clinical Periodontology which will set out the latest conclusions of the European Workshop on Periodontology about the effective prevention of periodontal and peri-implant diseases.
The supplement will provide new insights and suggest ways to reorganise preventive services and enhance their effectiveness in a variety of healthcare settings. The Workshop's conclusions offer oral-healthcare professionals an opportunity to take a new perspective on prevention.
The EFP hopes to achieve a greater impact among European citizens and believes that the primary and secondary prevention of periodontal and peri-implant diseases are the best tools to promote its motto "Periodontal health for a better life".
In addition, the EFP is preparing an ambitious project to disseminate the scientific consensus about the prevention of periodontal diseases and the links between periodontal health and general health.
The EFP invites the whole dental community to consult the JCP's monographic supplements based on previous European Workshops:
April 2014: Special Issue: Periodontal Plastic Surgery and Soft-Tissue Regeneration – Proceedings of the 10th European Workshop on Periodontology.
April 2013: Special Issue: Periodontitis and Systemic Diseases – Proceedings of a workshop jointly held by the European Federation of Periodontology and American Academy of Periodontology.