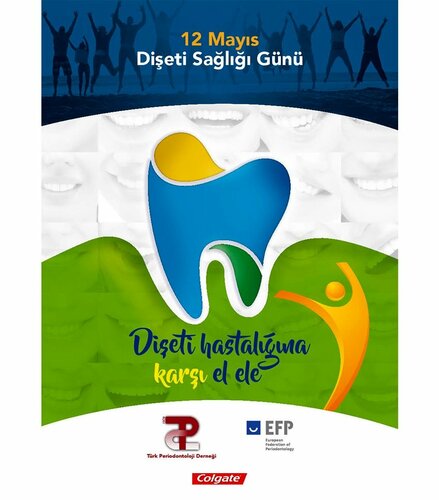 The Turkish Society of Periodontology celebrated European Gum Health Day 2017 with two conferences for dentists and oral-health specialists addressed by past president Bahar Eren Kuru.
The first conference, in co-operation with the Turkish Dental Association, was held in Istanbul on May 7 and the second, organised in partnership with ITI, took place in the same city on May 11.
The emphasis of the conferences was the prevention of periodontal and peri-implant diseases and the importance of European Gum Health Day as a way to raise awareness of periodontal health.

On May 12, in collaboration with Colgate Turkey, the society handed out free toothbrushes and tubes of toothpaste to patients at 12 university periodontology clinics across the country. They also distributed flyers with a clear message about the importance of gum health and oral healthcare, and placed posters in prominent positions in the clinics.
Postgraduate students of periodontology from Yediteppe University in Istanbul also visited a sports centre in the city to hand out flyers together with free toothbrushes and toothpaste.
On May 11, a local TV station in the Turkish capital Ankara broadcast an interview about gum health and European Gum Health Day, and the main national channel TRT is due to broadcast an interview on May 16.