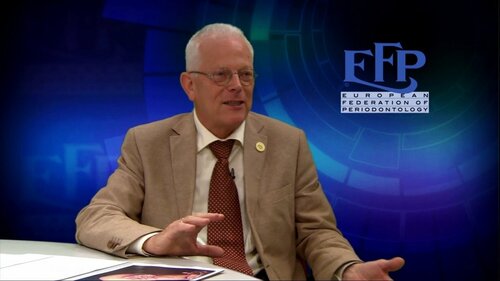 What led Ubele van der Velden to take up periodontology? Who was his biggest career influence? Was it his mother or University of Amsterdam lecturer Leo Coppes? What happened back in 1971 to the European organisation ARPA?
You will find the answers to these and many other questions in a video interview given by Ubele van der Velden to Tiernan O'Brien last autumn in Amsterdam. The two first instalments of this fascinating, in-depth interview are now available online in the section 'EFP Interviews'.
In the 'The early years' video, Ubele van der Velden explains why he decided to study dentistry, and then periodontology, and how a friendly teacher "dressed like a hippie" influenced his career. In the 'Genesis of the EFP' video, van der Velden recalls how the European periodontology scene began to evolve more than 40 years ago, with the EFP still some two decades away, when periodontology enjoyed none of the respect it has today as a science and a practice.
The aim of the 'EFP Interviews' is to offer today's perio community a perspective on how things used to be and how they have evolved to the present day. As a 'living memory' of periodontology, the interviews represent an archive of leading pioneers and historic perio figures – the "Perio Greats" – who explain the drive behind their work.
Tiernan O'Brien, the promoter of this initiative, has previously interviewed Niklaus Lang and Jan Lindhe, tracing how they shaped and developed this branch of dentistry.
"By listening to these 'fathers of periodontology' explain things from their own perspectives, you will be able to fill in the gaps between their core publications and see something of the person behind the writing," O'Brien explains.
The 'EFP Interviews' video archive is an evolving, long-term project. The next of these interviews, focusing on the people behind the development of periodontology, will feature Thorkild Karring.