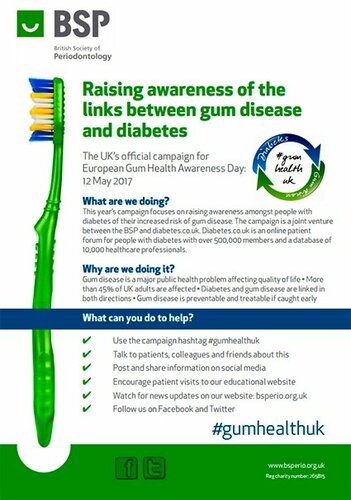 The links between periodontal health and diabetes are the focus on the British Society of Periodontology's activities for European Gum Health Day.
It has worked with the online diabetes community Diabetes.co.uk (one of the biggest such groups in Europe) to commission a survey to measure the awareness of the links between periodontal disease and diabetes. There will be a follow-up survey in six months.

Later, the two organisations will produce a report about the findings as well as educational graphic material to be used to address both health professionals and the public.
At the same time, the BSP and Diabetes.co.uk have launched communications campaign targeted at the dental press and at health journalists on the national press.
Articles have already appeared on specialist website such as Denistry.co.uk and The Diabetes Times, as well as on the website of the national newspaper the Daily Express.

The BSP's social-media channels (10,193 followers on Facebook and 861 on Twitter) are supporting the campaign and the society will provide posters and flyers at two major UK dental exhibitions and conferences.