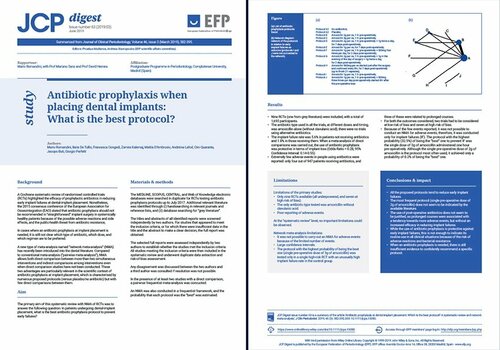 The EFP is publishing a series of videos in which experts explain key aspects of the new classification of periodontal and peri-implant diseases and conditions.
The videos are an addition to the toolkit the EFP launched in March to help periodontists and other dental professionals implement the new classification in their everyday practice.
In a video introduction to the new classification, Mariano Sanz , co-ordinator of the toolkit project, explains "why this EFP project matters". He says that "we are convinced that this classification will change the way we evaluate and treat our patients; we are convinced that it will put our profession into the future of personalised dentistry."
He urges dental professionals to "look into the details of this classification in order to appraise yourself of the present and future of dentistry."
In a series of 10 short videos, Prof Sanz then explains the new classification in relation to periodontitis, outlining the general principles and offering a step-by-step guide to the new approach of staging and grading cases.
The videos cover:
The new classification of periodontitis – introduction;
Step 1 – Screening for signs of periodontitis;
Step 2 – Patient suspected of periodontitis;
Step 3 – Establishing the stage of periodontitis (three videos);
Step 4 – Grading the case of periodontitis (two videos);
Preparing the patient's treatment plan;
Clinical examples.
In the coming weeks, more videos will be added from the other EFP experts who have helped develop the New Classification toolkit and who were co-chairs of the working groups that drew up the new consensus at the 2017 World Workshop on the Classification of Periodontal and Peri-implant Diseases and Conditions in Chicago.
There will be videos from Iain Chapple on periodontal health and gingival diseases and conditions, Søren Jepsen on systemic and other periodontal conditions, and Tord Berlgundh on peri-implant health, peri-implant mucositis, and peri-implantitis.
The videos are published at perioclassification.efp.org, which also includes guidance notes, expert presentations, and the introduction and consensus reports of the 2017 World Workshop on the Classification of Periodontal and Peri-implant Diseases and Conditions. Infographics are due to be added soon.
The videos are also available in a playlist on the EFP's YouTube channel.