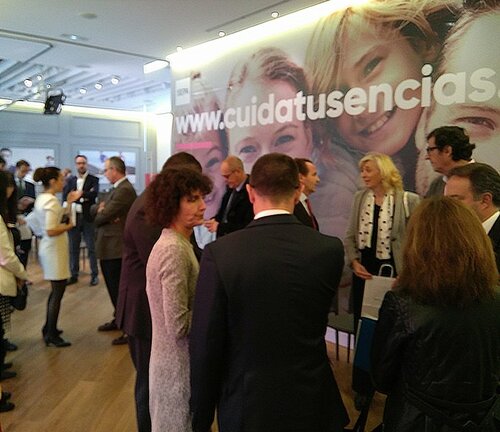 The Spanish perio society SEPA has launched a pioneering centre for gum health, as it seeks to spread the message of "periodontology for everyone" through encouraging the prevention of gum diseases and other systemic illnesses linked to oral health.
The Casa de las Encías (the SEPA Centre for Gum Health) was formally opened on October 24 at a ceremony attended by EFP president Juan Blanco, as well as leading figures from Spanish healthcare and politics. These included officials from Spain's health ministry, from the Madrid regional government, and from the city council.
The new centre, located next to SEPA's Madrid headquarters, will promote periodontal and general health, with a programme designed to demonstrate the importance of oral care and to boost health awareness.
Among the activities that will be offered are training courses for oral-health professionals, dental meetings, public events, free check-ups for the public, initiatives to boost health awareness, and co-operation with local businesses that encourage prevention, health promotion, and clinical excellence.
The 100-square-metre space is equipped with a press room and TV studio, which will be used to produce material that will be distributed online via the SEPA website.
"The Casa de las Encías will offer services ranging from very sophisticated activities of clinical training to awareness-raising programmes for the public," said SEPA president Adrián Guerrero. "This is a pioneering initiative in the European field and, in all probability, in the world."
Working closely with the recently established Alianza por la Salud [Alliance for Health] which SEPA has established with the Spanish societies for diabetes and disease, the SEPA Centre for Gum Health will emphasise the connections between periodontal and systemic diseases, building on the important work of the 2012 EFP Perio Workshop.
The new centre will help train dentist and dental hygienists and, in Dr Guerrero's words, "We will try to transform the dental clinic into a space for the primary prevention of non-transmissible pathologies (especially cardiovascular diseases and diabetes), for the battle against smoking, and for the promotion of healthy lifestyle habits."
The SEPA centre offers a model for interdisciplinary collaboration and for bringing perio closer to the general public. It will be studied with great interest by other member societies of the EFP.
Juan Blanco said: "This project is extremely attractive at the European level, as it implies a further advance in the aim of bringing periodontology to everyone, in universalising information and training for prevention, and in better addressing not only diseases of the gums and the mouth in general but also other very common diseases that are located outside the mouth."