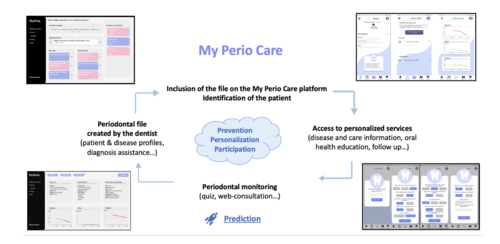 The EFP has announced the winners of the Innovation Award for Digital Solutions for Gum Health 2023. The prize, supported by Haleon, is awarded annually to initiatives providing digital solutions that contribute to improve gum health worldwide.
First prize was awarded to "My Perio Care" by Claire Bigot from the Department of Periodontology, Faculty of Oral Medicine, Paris Cité University, France. Bigot presented an application that addresses both patients and dentists' unmet needs to better manage periodontal care, from primary to tertiary prevention. My Perio Care helps health professionals diagnose periodontal disease with the new Chicago classification, depending on different parameters. The periodontist can then prescribe the app to patients who can receive access to personalised services such as best care information, oral health education, and follow-up of their periodontal parameters. Throughout treatment, monitoring is personalised and non-intrusive. Questionnaires can be sent automatically on mobile apps, depending on the patient's level of risk, and tele-consultation is possible (if necessary) among other services.
Second place went to "My.periodontal-health.com" submitted by Christoph Ramseier from the Department of Periodontology, School of Dental Medicine, University of Bern, Switzerland. This innovation supports personalised periodontal care and allows clinicians and patients to transfer clinical data from other perio-tools such as www.perio-tools.com.
This technology aims to help patients achieve and maintain periodontal stability during supportive periodontal care (SPC). They can receive email reminders about upcoming visits to the clinic and access information about the estimated healthcare costs they have saved by regularly attending previous SPC appointments.
Professionals will be able to track residual PPDs and BOP% over time, obtain personalised SPT interval reports. The tool is compatible across platforms and was developed in collaboration with Ukraine- based IT professionals from 2022.
Third place was awarded to "Digital technology monitored and controlled oral endotoxin activity levels for personalised primary and secondary prevention of gum diseases and related systemic complications" by Svetislav Zaric from the Faculty of Dentistry, Oral & Craniofacial Sciences, King´s College London, United Kingdom.
This innovation aims to develop a rapid and reliable test based on oral bacterial endotoxin profile, which can be used routinely by dental care professionals and the wider public.
The test would come in two versions:
A salivary test for home, patient-performed self-testing for early detection and prevention of periodontal diseases (or relapse) before significant tissue destruction occurs
A subgingival plaque test for use by dental professionals for personalised, site-specific, point-of-time periodontal conditions management.
Andreas Stavropoulos, chair of the EFP scientific affairs committee and past president, said: "The EFP is happy to reward innovative work, to support clinicians, and to boost gum health for the benefit of our patients and society at large. The EFP will continue, with the support of its partner Haleon, to support cutting edge digital technology."
Dr Steve Mason, Global Medical Lead for Oral Health commented: "Haleon is proud to support its partner the EFP, and this important, growing area of future research for oral health. The EFP Innovation Award for Digital Solutions is in its second year and quality of both entries and winners is outstanding." Haleon is one of the world's largest providers of specialist oral health.